Cruise to Latino Tango Countries


Santiago, Chile was the final destination of our sixteen-day South American cruise with ten other families from Laguna Woods Village. We booked this adventure just two weeks before the departure from San Pedro Harbor on January 16, 2011 at a great price of $699, which was less than 50% of most of the cruise trips we've taken.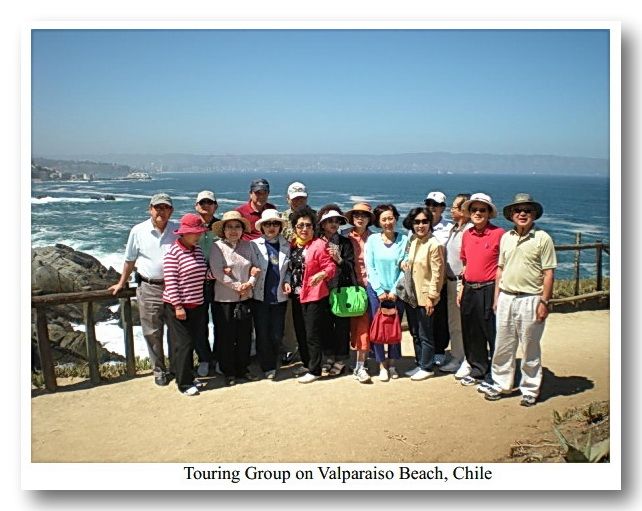 We didn't hesitate to sign up when we heard the price and didn't know why the cruise was so inexpensive until we board the 138,000-ton luxury ship, Mariner of the Seas, of the Royal Caribbean International Company. On the day we were getting ready to go to Los Angeles Harbor, the Los Angeles Times had a story that this ship was leaving Los Angeles to South America, Europe, and then to Galveston, Texas, which would be her new home, in August.
The story cited two reasons why the ship would be moving from her Mexican Riviera route to other courses. First, they couldn't find 3,200 passengers to fill, because of California's economic downturn, and second, all the media reports of drug, crime, and killing of gangsters in Mexico, a favorite resort destination of Americans from the northern states around California during the winter season.
We didn't find many trained workers when we checked in and we had to wait in line two hours to board the ship. We were frustrated, though I understood that the temporary workers didn't really know what they were doing.
While we were waiting, I wondered about the future of this country. We had considerable difficulty communicating with the uneducated service personnel—or the equally unintelligent machines—that had replaced experienced human beings. The company was obviously trying to save money by eliminating skilled manpower, but our patience began running very thin while having to deal with slow machines and unprofessional people.
All of that was in sharp contrast to what I found in Hong Kong and South Korea last year. I found more salespeople in many department stores and I was told the stores were making money. I don't pretend to be an expert on such matters, but I did get the distinct impression that things are not improving in America.
President Obama has repeatedly stressed the need of reforming America's educational system, and I've known that the country's system lacked any real incentive to improve the quality of secondary education. And a dramatic rise in the cost of higher education is so high that a majority of American people can no longer afford the tuition. Even some state-supported colleges now cost more than $20,000 a year.
Although I didn't have accurate figures, I estimated that the ship we sailed on was carrying less than half of its capacity of 3,200—and all services seemed to be curtailed, as well. The library was only opened two hours a day, many of the shops didn't open until noon, and even the casino didn't open until 10:00 in the morning. This was quite different from the wonderful time we had enjoyed on our family reunion cruise two years earlier with Susan, Eugene, and their families on that same ship.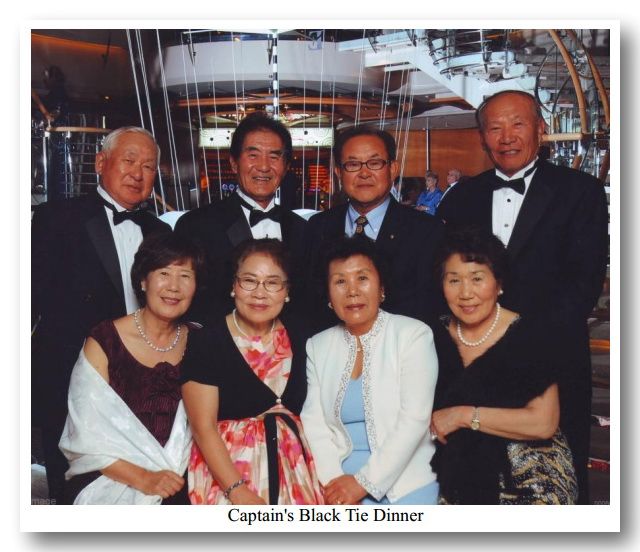 First four days of our voyage covered two Mexican ports: Cabo San Lucas and Puerto Vallarta. I had visited both of these ports many times, so I did a lot of my work on my book while the others went to visit those Mexican cities. After three days and nights, we would sail to Puntarenas of Costa Rica, then move down to Lima, Arica, and Valparaiso, the entry harbor to Santiago, the capital of Chile which were known to have good music, tasty wine and beautiful women.
The Mariner of the Seas was a bigger ship than most ships, so for three days and nights, we were confined to the floating hotel and enjoyed the restaurants, saunas, swimming pools, gymnasium and bars. However, I most enjoyed just lying in a poolside chair for hours doing nothing but reviewing my past while watching the calm Pacific water and moving clouds. Who was it who once said that life is just like flowing water or a floating cloud? I don't know, but I can say that I agreed with them at that moment.
I had traveled to Cartagena, Columbia, in 1974 to attend a meeting, but I was excited to visit three other countries to experience Latino culture. After spending a day in Puerto Vallarta, the ship sailed at speeds up to twenty nautical miles per hour until we finally anchored in Puerto Caldera, in the northern region of the Puntarenas province of Costa Rica. That small harbor town is not only a key port for ships from around the world, but also an access point to a world of unspoiled natural beauty.
Costa Rica (which means "rich coast") is bordered by Nicaragua to the north, Panama to the east and south, the Pacific Ocean to the west and south, and the Caribbean Sea to the east. It's a small country with a population of about five million. It constitutionally abolished its army permanently in 1949. It's the only Latin American country included in the list of the world's twenty-two oldest democracies.
Costa Rica has consistently been ranked near the top Latin American countries in terms of the Human Development Index, ranking 62nd in the world in 2010, and was cited by the UNDP as a country that has attained higher human development than other countries with similar income levels.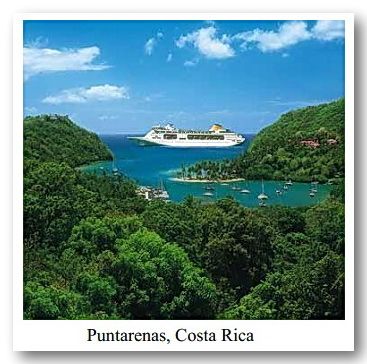 The country is also ranked third in the world (and first among the Americas) in terms of the 2010 Environmental Performance Index.
In 2007 the Costa Rican government announced plans to become the first carbon-neutral country in the world by 2021. According to the New Economics Foundation, Costa Rica already ranks first in the Happy Planet Index and is the "greenest" country in the world.
While we were traveling nine hours by a van to the hilly city of Grecia and the coastal town of Puntarenas, the Costa Rican people in general seemed to be happy, but the signs of poverty were loud and clear, including substandard housing, crumbling roads, and an abundance of trash. That seemed to contradict all the things I had read about the country.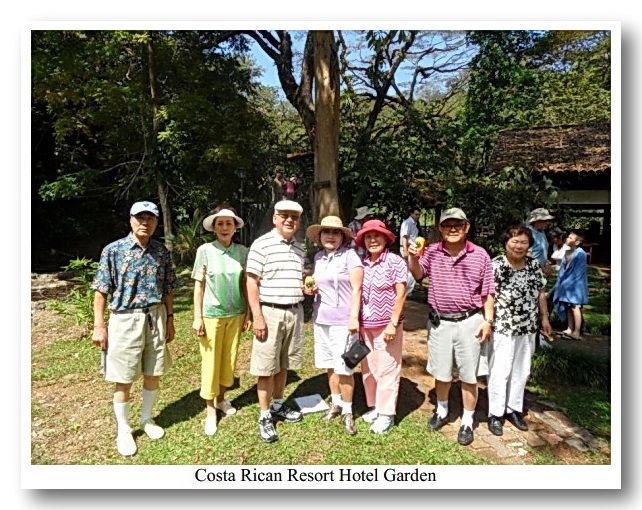 Historically, Costa Rica has been poor country because of the lack of resources such as gold, silver, and an indigenous population available for forced labor, which meant that most Costa Rican settlers had to work on their own land, preventing the establishment of large haciendas. For all these reasons, Costa Rica was largely unappreciated and overlooked by the Spanish and left to develop on its own, thus setting the stage for the country's development into a more egalitarian society than most of its neighbors.
Rushing rivers, spectacular waterfalls, and a lush rain forest are nestled between Costa Rica's coastlines and peaks. We heard howler monkeys scream and saw the exotic trees sparkle with the color of macaws, toucans, and parakeets. We also saw how world-famous Costa Rican coffee was harvested, milled, and roasted—and bought a few pounds for our own enjoyment.
We sailed out of Caldera at seven in the evening and crossed the equator at four the next morning. According to another traveler, who had a lengthy and decorative service in the Korean navy, crossing the equator is a big deal in the nautical world, especially for first-timers. Historically, the ceremony was a rite of passage for sailors new to the whole experience. After a series of rituals, those pollywogs were promoted to shellbacks and were then considered tough enough to endure life on the high seas.
We participated in a traditional "King Neptune" crossing ceremony while on our voyage, which was hilarious and memorable. The ceremony was started with the entrance of a mythical king and his uproariously funny court, all clothed in decorative costumes. Then the captain of the ship appeared, knelt down in front of the king, and asked for a safe passage across the equator. The king demanded that the captain offer a sacrifice, to which the captain responded by presenting the ship's first executive officer, who then knelt down and had to endure having a vile-looking avocado mixture poured over his head. That was cause for a great deal of laughter among the passengers.
Next, the female service director knelt and had a huge bucket of fished dumped over her head. She was followed by all the rest of the executive officers, who were similarly humiliated in front of all the guests. Finally, the king ordered the captain himself to have a bucket of avocado juice poured over his head—by his own wife.
After the sacrifice, all of those who had been sacrificed jumped into a pool and sang the song "YMCA" several times, joined by all the guests. It was all very entertaining, but quite different from the ceremonial events I'd witnessed on Korean ships in the past. Korean ceremonies usually include a special food, such as a whole pig, and the captain and his staff bow to the god, not a living king, and ask for a safe passage. The god never responded or asked for any sort of sacrifice. Following the ceremony, all participants enjoyed food and drink together without any further entertainment. I did, however, enjoy the new ritual and made a contribution to the Make-A-Wish Foundation.
Peru
We landed at Callao at seven in the morning to enter the Peru's capital city, Lima, which was destined for greatness from the start. Spanish conquistador Francisco Pizarro founded and named "The City of Kings" in 1553. As the capital of the Viceroyalty of Peru, Lima quickly became a major hub for trade. As we observed, Lima's rich had been gracefully intertwined with a cosmopolitan flair, making it a fascinating city.
Our tour guide told us that Lima is the launching pad for a journey into the Sacred Valley and Machu Picchu. We drove through to the Plaza Mayor, where the presidential offices and national government buildings were located, as well as the San Francisco monastery. San Marcos University, which was established in 1551, is surrounded by some very beautiful colonial landmarks, looking very much like an old Spanish town.
We were recommended to have a lunch of ceviche with pisco Peruvian sauce, a local seafood specialty, but we saved that opportunity for our next trip, since our tour schedule was rather tight. We also toured the residential districts of San Isidro and Miraflores and shopped the Inca Market at Parque del Amor.
Peru is bordered on the north by Ecuador and Colombia, on the east by Brazil, on the southeast by Bolivia, on the south by Chile, and on the west by the Pacific Ocean. It was once home to the Norte Chico civilization, one of the oldest in the world, and to the Inca Empire, the largest state in Pre-Columbian America.
The Spanish conquered the region in the 16th century and established a viceroyalty, which included most of its South American colonies. After achieving independence in 1821, Peru has undergone numerous periods of political unrest and fiscal crisis, as well as periods of stability and economic upswing.
Peru is a developing country, but it still has a poverty level of about 36%. Its economic activities include agriculture, fishing, mining, and manufacturing of products such as textiles. The country's population of 29.5 million is multiethnic, including Amerindians, Europeans, Africans, and Asians. This mixture of cultural traditions has resulted in a wide diversity of art, cuisine, literature, and music.
Chile
Chile occupies a long narrow coastal strip between the Andes Mountains to the east and the Pacific Ocean to the west. It's a ribbon of land 2,700 miles long and averaging 109 miles wide. The northern desert contains great mineral wealth, especially copper, but the relatively small central area is the dominant part of the country in terms of population and agricultural resources.
It's also the nation's cultural and political center and the place from which Chile expanded by incorporating its northern and southern regions in the late 19th century. Southern Chile has rich forests and grazing lands, as well as a number of volcanoes and lakes, and the southern coast features many enchanting peninsulas and islands.
After we departed Lima, I attended a lecture on the history and culture of the Mapuche people who inhabited central and southern Chile prior to arrival of the Spanish in the 16th century. The Mapuche resisted many attempts by the Incas to subjugate them, despite their lack of state organization, but they couldn't ward off the Spanish invasion. The Mapuche make up less than five percent of Chile's current population, but they still try to preserve their ancient beliefs, heritage, and traditions.
Chile declared its independence from Spain in 1818. Although relatively free of the coups and arbitrary governments, Chile endured the seventeen-year military dictatorship (1973–1990) of Augusto Pinochet that left more than 3,000 people dead or missing. Today, Chile is one of South America's most stable and prosperous nations. It leads Latin America in human development, income per capita, globalization, and economic freedom, and also ranks high in freedom of the press.
Economically, Chile has the highest GNP among South American nations, and it has actually tripled during the last twenty years. The country produces one third of the world's copper and exports high quality, yet relatively inexpensive, wines all over the world. In fact, Chile is the world's fifth largest wine exporter and the eighth largest producer.
Arica is in the northern Atacama Desert, one of the driest regions in the world with an annual average rainfall of less than one tenth of an inch. As we did a number of times on our trip, we arranged our tour of Arica with a local tour van operator who spoke no English. One of our tour group members communicated with the guide, who demanded quite bit for his services, but since there were twelve couples, we finally negotiated $150.00 for a four-hour tour of the city.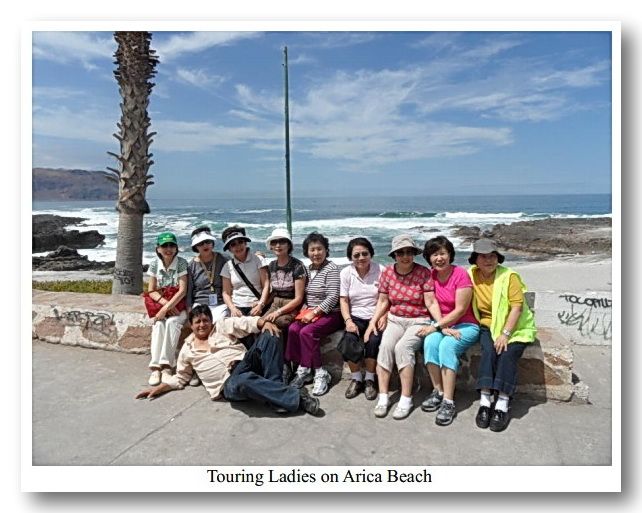 The driver's name was Victor Hugo, and even though he didn't understand English, he was a pleasant fellow who knew the area well. We first went to see the San Miguel de Azapa Archaeological and Anthropological Museum and the Lluta Geoglyphs. Victor then took us to San Marcos Cathedral, a 19th century Gothic edifice, and a typical Chilean handicraft market.
Victor tried to describe some of the historical landmarks in Spanish accompanied with lots of sign language, and we managed to understand much of what he was trying to say. However, there was also a great deal that we couldn't understand, but he was quite entertaining and we all had a good time.
In our four hours, we saw a number of other spots of the city, and the tour ended up costing us $7.50 per person, as opposed to the excursion arranged by the ship, which would have cost $79 each. We gave Victor $30.00 as a gratuity for his friendly help, and he embraced us heartily for our generosity. It turned out to be a great idea!
Arica is a small harbor town that first was used to load minerals like copper and nitrate, but they eventually began to grow olive trees, which evolved into one of the town's major exports. Even though the area is covered with volcanic rock and has very little rain, the ground water is easily pumped to the surface to produce olives and other produce. Although their living conditions were poor, the local people seemed to enjoy whatever they had. When we were sailing out of the harbor, we could see nothing but rocky cliffs along the seashore—and not one visible sign of any living things. Arica was the last stopover before we sailed to our final destination, Valparaiso.
Valparaíso
Valparaiso is one of the country's most important seaports and a cultural center of the Southwest Pacific. Valparaíso played an important geopolitical role in the second half of the 19th century when the city served as a major stopover for ships crossing the Straits of Magellan while traveling between the Atlantic and Pacific oceans. The harbor grew quickly during its golden age, and the city eventually became known by international sailors as "Little San Francisco." However, the opening of the Panama Canal and resulting loss of ship traffic was a staggering blow to Valparaíso, though the city has undergone an impressive renaissance in recent years.
A nice German-made bus and a guide from a Korean travel agency were waiting for us when we moved out of the port terminal. We were then treated to a tour of the harbor, which looked just like a Spanish port of 19th century. We also visited the Veramonte winery on the way to Santiago.
The winery is located in a valley with a diversity of microclimates. The valley floor's cool climate is ideal for growing Chardonnay. The foothills are warmer, similar to the northern reaches of the Napa Valley, and the climate is suited to Bordeaux grape that has become the basis of Primus, an exotic Chilean blend.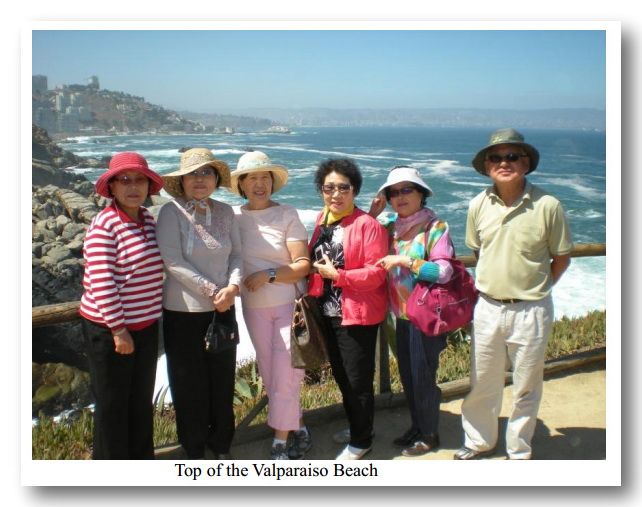 Veramonte's Casablanca vineyard produces lower yields than other grape growing regions in Chile, resulting in grapes with a greater intensity and concentration. As a tourist spot, the winery charged $8.00 to tour the facility, and a glass of wine cost $4.00, which was more than we paid at any restaurant in Valparaiso.
Santiago
Santiago is Chile's political and cultural center, and its central location makes it a great base for visiting other areas. It's a fast-growing city between the Andes mountain range to the east and the Cordillera to the west.
We had a full-day tour of this wonderful city of six million, starting from the La Moneda Palace, where the office of the president of Chile and its cabinet ministries are located, and moving on to the Plaza de Armas, where the biggest and oldest Catholic cathedral in Chile has been preserved. There were many dogs running around the streets of Santiago, so we had to be careful where we stepped.
While we were wandering the palace, we actually met the president, who was coming to his office with a group of secret service staff. He shook our hands in front of the cheering public in front of his office. It was beautiful to see a democratic system at work, even as pictures of violence were being broadcast daily from Egypt.
We visited the Central Market, where all kinds of fresh fish and vegetables were sold, and we had lunch at a Chilean barbeque restaurant, including a local wine that cost only $10.00 a bottle—the same wine that would have cost $30.00 on the ship. After lunch, we had quite a workout as we made our way to the top of the Santa Lucia, which was similar to the peaks of Hong Kong, except that we had to walk up the long steep hill to see the top of the castle.
As the last part of our South American trip, we took a tour bus about a hundred miles to the Portillo Ski Resort in the Andes, the world's longest continental mountain range. The bus driver was cautious as we made our way along a winding mountain road for three hours, but we were treated to wonderful views on both sides of the road.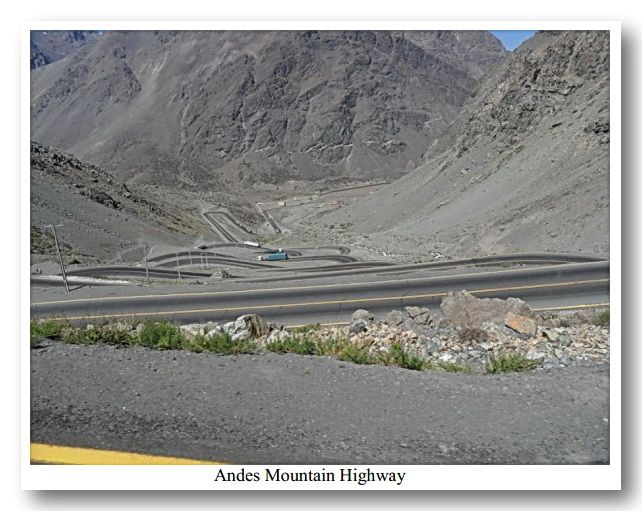 When we arrived at the resort, we were please to find no crowds because it was the summer season. We walked down to Laguna de los Incas (Incan Lake), where we heard a legend concerning the last princess of the Incan empire, who took her life in the water. We also had a great lunch featuring traditional Chilean empanadas de pino, filled with a seasoned mixture of ground beef, onions, raisins, black olives, and hard-boiled eggs. We were close to the Argentine border, but we had to hurry back to prepare for our flight back home.
Although Chile is poised to become the richest nation in South America, they need to emphasize globalization, just as Korean president Y.S. Kim chose it as a top priority. It's simply a good business strategy. We had severe difficulty communicating with most of the service personnel when met in Chile. They simply said "I speak no English" and that was that.
I also noticed many new Kia and Hyundai cars on the streets, since Chile signed a free trade agreement with South Korea some time ago. I was so delighted to see that, and I knew that part of the reciprocal agreement brought inexpensive Chilean wines into South Korea. In my opinion, it would be in everyone's interest for the United States and Korea to work out a similar free trade agreement. I believe it would do more good than harm.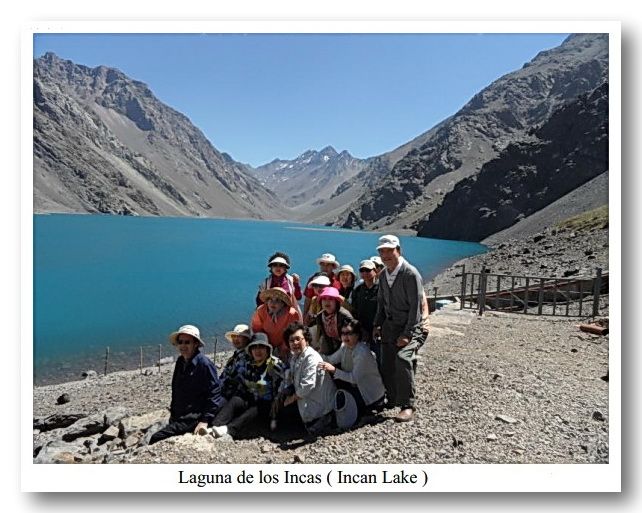 Thus we came to the end of our unusual South American adventure, though we were in for one final surprise. We arrived in the States to find the Dallas Airport covered with snow and the temperature hovering at eighteen degrees. It took us about twenty hours to return to Los Angeles.
Essay and Photo by Won-Ho Chang - February 13, 2011
Re-edited from Chapter 3, South American Cruise.pdf